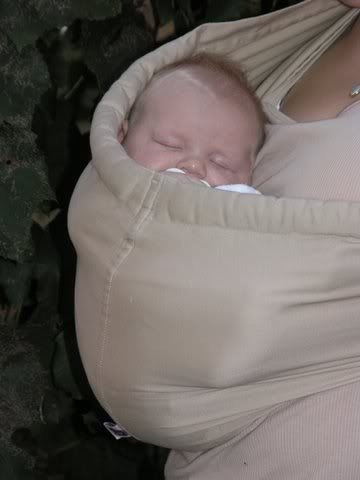 I bought the Hotsling pouch carrier, as my first carrier after quickly learning that the Snuggi I had wasn't cutting it for so many reasons. I picked this carrier because it looked so easy to use. I was right! :) This carrier is very fool proof. There is not much to learn about wearing it, and mine came with an awesome how to DVD that teaches you how to properly wear it and do many carries. So this carrier is very versatile because, though it is super simple to wear, there are different ways to carry baby. Making it a great carrier for all ages/stages!
I found that I really loved it as a diaper bag carrier. It was so small folded up and took up no room in my diaper bag! I loved it when I had to run into the store and just needed something quick to pop my baby into. I have a khaki color, but it comes in so many beautiful colors and prints! Check
them
out! My only complaint was that the sizing can be a pain, because my carrier is an older version and sized. I was thrilled to see that they are now adjustable, which would eliminate my only issue with Hotslings! Use their
sizing chart
and choose from 2 sizes that can be adjusted to many sizes. Now that they have made them adjustable it's even easier to get the right size! Especially when postpartum your body is still changing. So kudos to Hotsling for improving their awesome pouch sling!
This carrier is made of high quality fabric, so comfy for mama and baby! I also loved the padded edge that it has. Makes it so comfy for the baby! It's designed really well and is comfy not only for mama but just as comfy for baby, too!
Best Baby Organics
was generous enough to let TMG giveaway a Hotsling!! Thank you so much BBO for such a great giveaway!
Best Baby Organics is a family owned and operated company that has been up and running since 2006. They carry many of the products that eco-conscious families are looking for more of these days such as baby carriers, organic baby clothes, breastfeeding supplies, organic skin products, organic toys, and much more! They carry name brands such as Aden + Anais, Hevea, Bamboobies, Livie and Luca, Charlie Banana, and Bebe Au Lait. They offer free shipping on orders over $35 and have lots of other fun items for mamas and babies!
You can find Best Baby Organics on
Facebook
and
Twitter
. And please visit their
website
to see all of the wonderful products that they carry!
a Rafflecopter giveaway