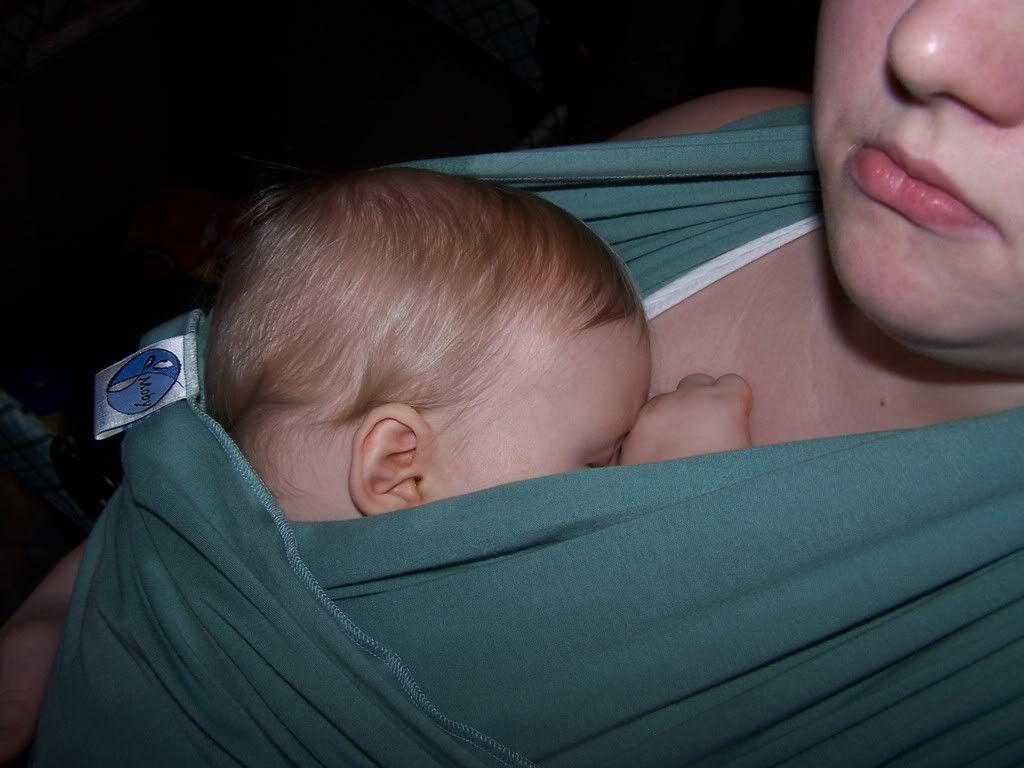 Snuggled in sweetly sleeping away!
These come in a stretchy fabric, like a cotton tshirt material (Moby, Sleepy Wrap, etc) and also a woven fabric (Didymos, Girasol, etc). The stretchy wrap is widely available now at many brick and mortar stores, which is wonderful because it is a GREAT carrier! It's so nice to see wonderful carriers readily available for mamas to purchase easily! These will come with a manual and you can do many different carries. I personally found that I absolutely loved it for newborns. There wasn't a better carrier for that squishy newborn. I loved that the fabric was so soft and that my baby was just cradled in so perfectly. There is no carrier that lets baby be in that curled up newborn position better and is very user friendly.
I was a bit intimidated by the look of a wrap, but really I haven't found a person who couldn't get the stretchy wrap to work for them. They are very forgiving. They are good because they fit many sizes. I myself am a plus sized mama and I have no problem fitting me and my baby in the stretchy style wrap. You can even buy fabric at the fabric store and cut it in half length wise and get 2 wraps. There is a tutorial for how to here. The nice thing about this tutorial is it's no sew since the fabric doesn't fray! How great is that for all of us!
There is one issue with the stretchy wrap, as your child gets heavier the fabric will stretch out as baby is being worn, making it need adjusted while you wear baby. It's not hard to readjust and tighten baby back up, but it is something to consider if you are starting baby wearing with an older infant. I found that when the stretchy wrap started to really stretch to much, I'd just start using my other carriers more. There really is nothing that I like more than the stretchy wrap for newborns though! This is an affordable option and can be even more affordable if you choose to make your own.
The woven wraps are much more expensive. You also have to take into consideration that these aren't stretchy. There is more of a learning curve on wrapping them. They will give you pressure spots if your fabric isn't just so. I personally found that with my plus size the size 7, which was the biggest I could find used, was just not versatile enough for me. I enjoyed trying it out, but it wasn't practical for me. I ended up trading it for another mei tai. I do think if you are a pro baby wearer and enjoy wrapping, you should go for it. Once a woven wrap is broken in it can be so soft and comfy. It's just not something I'd advise someone who's a first time baby wearer to jump into. They can be a bit more challenging than the stretchy wrap. I do know many who absolutely love a woven wrap and you may too. Just me personally I never found that love for them. The nice thing about them, is they are nice for the newborns, but also more supportive for even up to toddler if you get the wrap right. It can be super comfy for child and mama, it just takes some practice. There are tons of tutorials to watch on you tube and thebabywearer.com has many ladies who love the woven wraps!